Digital Marketing
SEO For Law Firms: How To Optimize Your Website
Mar 16, 2015
Target local keywords. As you probably know, legal Internet marketing is incredibly competitive. It is important to not get overwhelmed and focus on marketing to your immediate location initially. Eventually you will reach a broader audience but this takes time, and will not occur until you have secured branded traffic and a prominent rank in and around your local area. For example, do not expect an immediate high ranking for Florida personal injury lawyer. Instead, start with smaller geographic and specialty areas with keywords like Fort Lauderdale accident lawyer and personal injury attorney Fort Lauderdale.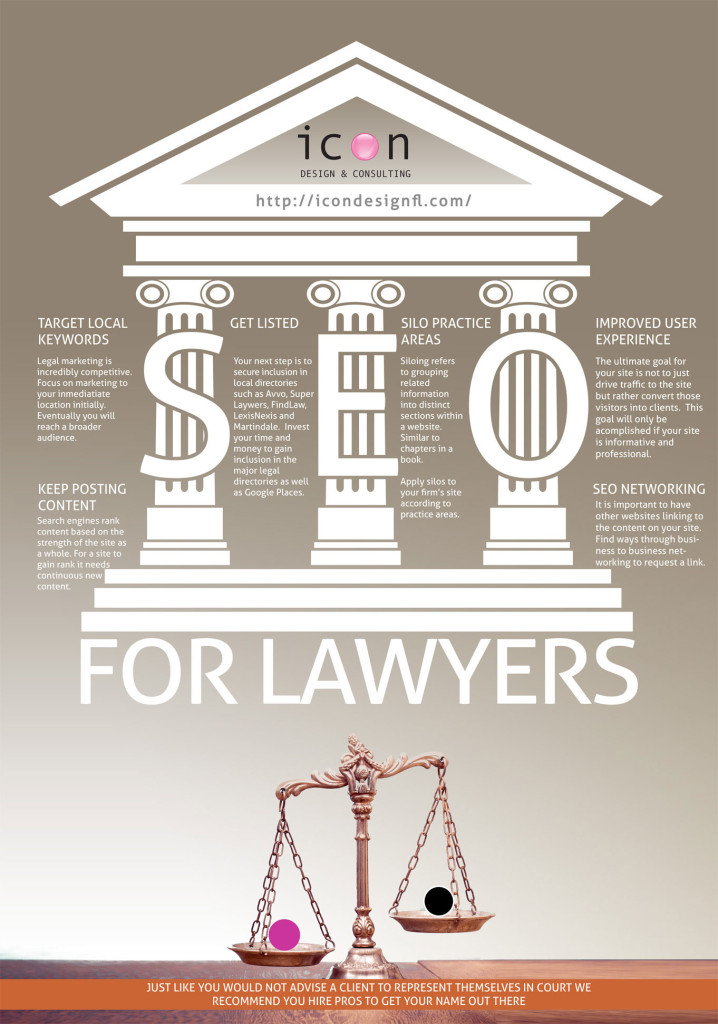 Get listed. Your next step in local optimization is to secure inclusion in local directories, such as Avvo, Super Lawyers, FindLaw, LexisNexis and Martindale. While industry-specific directories have become less valuable in other industries, potential clients still frequent legal directories when searching for attorneys. Invest your time and money to gain inclusion in the major legal directories as well as Google Places. Google Places will allow your law firm to appear prominently on the search engines results page within Google Maps and Local Carousel. Being included in the maps area of Google will be a major source of traffic, here is a helpful resource for optimizing for Google place. http://www.bruceclay.com/blog/beginners-guide-google-places-for-business/.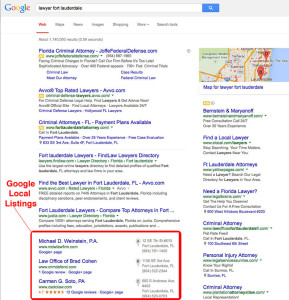 Silo Practice Areas. Siloing thankfully has nothing to do with farming; it actually refers to grouping related information into distinct sections within a website. Similar to chapters in a book, silos represent subject specific content within your website. When applying silos to your law firm's site, it's imperative you do so according to practice areas. Keep in mind that your prospective clients are researching you before they hire or even meet you; therefore, the content you have will provide insight about your practice, and you will have a better chance of ranking for specific terms. Here is an example of a silo group by practice area:
Criminal Defense            
DUI
DWLS
Drug offenses
Property
Capital crimes
Battery
Burglary
Homicide
Improved user experience. The ultimate goal for your website is not to just drive traffic to the site but rather convert those visitors into clients. This goal will only be accomplished if your site is informative and professional. You can learn more about optimal user experience in Part 1 of our Law Firm Marketing Series, but here is a quick checklist of important information to include:
Practice Areas
Case Studies
Case Results
Lawyer Bios
Testimonials
Press coverage
An informative blog
Keep posting content. Keep in mind that your website does not exist as an entity by itself. Search engines rank content based on the strength of the website as a whole. An older well functioning website will have more power than a new site with less content. For a new site to gain rank, it needs to have continuous new content in the form of news articles and blogs. Do not just upload 25 news articles to your website and think this will do the trick, the key is to add them one at a time over a longer period, start with 3 a week.
SEO Networking. It is important to have other websites linking to the content on your site. Search engine algorithms give a lot of merit to the judgment of reader endorsements; these endorsements are measured by the links created by established online authors. Find ways through business to business networking to request a link and look for opportunities to write articles for legal websites in exchange for a link on your website.